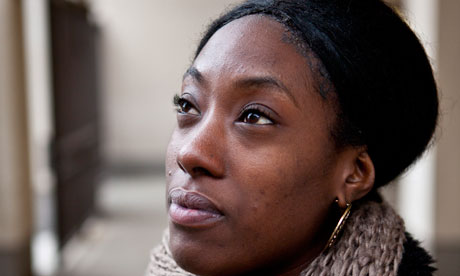 This article breaks my heart. Girls as young as 12 being gang raped and it's kinda well, you know, "normal."
Get angry, folks, get real angry. The ripping of heart muscle is mended to some extent by the knowledge (reported in this article) that there are solid, proactive programmes being run for young girls. The pivotal issue seems to be the desperately low self worth held by young girls. Our western culture  does little to give them a sense of self that is strong, wise and fearless.
Let's try and lift young people  - and I mean the boys involved as well - out of the gutter. Let's try to be aware and do something too. Please don't think that because it's happening in London, a long way away, that it can't happen here. 
Read the article in the Guardian(UK) here:
http://apps.facebook.com/theguardian/society/2012/feb/18/being-raped-by-gang-normal?fb_source=other_multiline&fb_action_types=news.reads
Pictured is Isha Nembhard,  "a female former gang member [who]has exposed the growing levels of sexual violence against young women who join them, saying that many are willing to risk being raped in return for the status of membership." - The Guardian (UK) on Facebook.