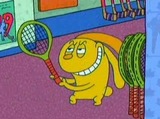 Cynics may have thought I'd forgotten my deep and abiding love for UB.
Not so.
Here he is again. Please enjoy this masterful enactment of Animal Music. Get your kids and git yer chicken dancin' shoes on sister. This clip rocks. Look at his ears. They say everything you need to know.
This is rare footage and once again, we must thank Canadians for their delightful and groovesville slant of life itself.